Start My Happiness Challenge!
The countdown is on for my new book, The Happy Life Checklist! It will be on shelves February 4. But I wanted to get the happy going a little early with a fun something I'm really excited about!
I created a month-long Happiness Challenge with glamour.com. For five weeks, I'm going to offer one new challenge a week. If you complete each week's mission, you will feel more adventurous, less stressed, fulfilled, confident, joyful, kick ass and all-around happy. Sounds good, right?  Then join me in the #happinesschallenge! Seriously, I'm going to do it right along with you.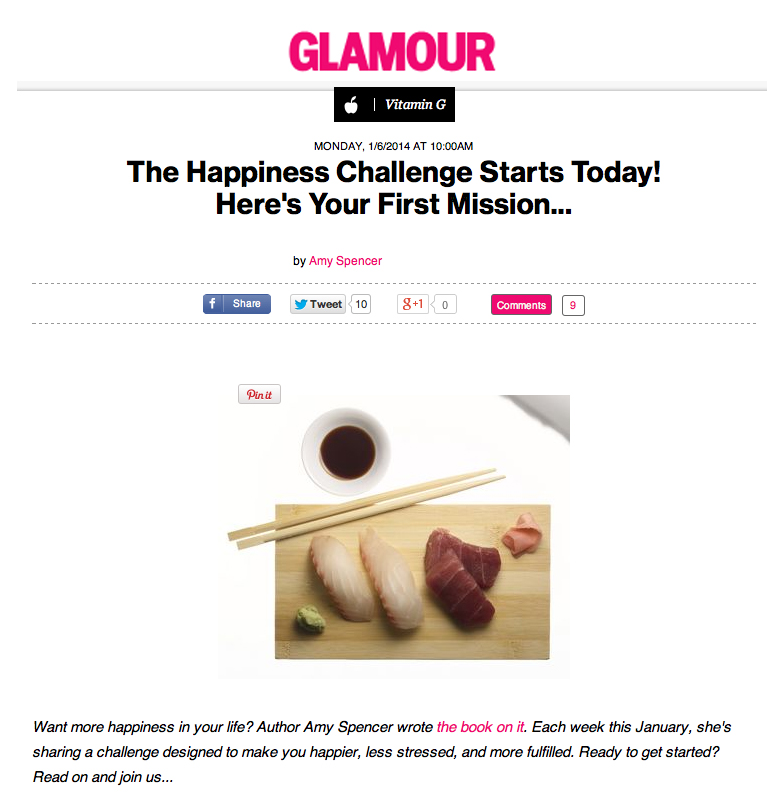 You'll find your first mission at glamour.com. (And next Monday, you'll get challenge #2.) Check it out and tell me there if you're up for the fun, and how you think you might complete your first challenge—then share the challenge with your friends! If you take it on, share your plans with me on Facebook, or tweet me at @datingoptimist on Twitter, or Instagram your plans with me @amyspencerla, or Vine me a video @amyspencer on what you plan to do.
However you join in the #happinesschallenge, do it! Your life is no small thing. You can make big changes by taking little steps like this along the way. Make this your year.
So what do you think? Are you ready to get happy?
—Amy
#happinesschallenge #gethappy #happylifechecklist
You can also pre-order The Happy Life Checklist today and get a jump on your happy year!