TODAY: Get Optimisms on Your iPhone!
Wouldn't it be nice if you had a friend telling you JUST what you needed to hear before a big date? Or right after a bummer one? Or first thing in the morning when you're having a bad hair day and can't seem to shake your mood? Wouldn't it be nice to have a little nudge of optimism? Well, you know what I'm going to say here…now you can!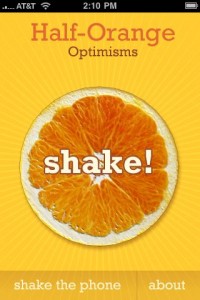 In the hopes of passing along positivity in a new way to those of you who have iPhones, I've created an iPhone App called Half-Orange Optimisms that launches today, March 18th!
It's a collection of 100 original Optimistic quotes I've come up with to give you a boost about yourself, your mood, your dating life and your life as a whole. Like a Fortune Cookie meets a Magic 8-Ball Meets Your Crazy Dating Life, you just shake the phone, and the 3-D spinning orange will reveal…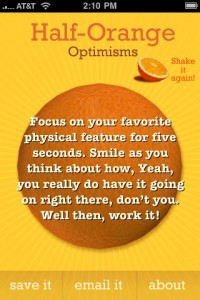 …a few cool words of happy dating wisdom. I'll be updating the App regularly with brand-new phrases and tips, so it'll always be full of some fresh, healthy positive advice.
I know I'm not perfect about updating my blog every day. And sometimes I don't get around to Tweeting for a few days at a time either. So I thought this would be a good way to help you ralley when you need it. You know you have optimism in you, and I know you have it in you, but the iPhone App will just help squeeze it out of you when you want it most.
And look, when you upload it to your phone, it looks like this rad little orange on your screen!
I'd be honored if you deem it fun and useful enough to download it to your phone. Consider it the best love attitude investment you could get yourself this year. 🙂
Big iPhone love,
Amy