Real Simple has the Orange Buzz!
I had to smile yesterday when I saw this July 2010 cover of Real Simple magazine.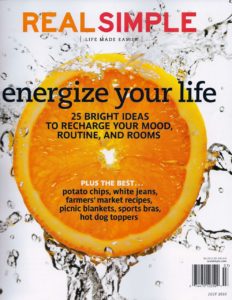 I love the mag, especially since my former Glamour-ites took the helm a few years ago. And the way I see it, any story about uplifting your mood orange-style is just helping spread the Meeting Your Half-Orange message!
If you want a half-orange in your life—or if you want a half-orange kind of life—turn to your optimism, up your mood, and go out there and get it! Energize your life and your love life will come charging after.
And any time you need a reminder, just turn to the magazine rack in your local check-out line for a little orange buzz.
—Amy