NOW Magazine & The Happy Life Checklist
This week's issue of NOW Magazine in the UK (it's like the People magazine of Great Britain) was kind enough to ask my advice for a fun feature on how to do newly single style right.
The story features beautiful British  TV star Sam Faier (of TOWIE and, recently, Celebrity Big Brother) who'd recently broken up with her TOWIE co-star Joey Essex. And she seemed to be doing the breakup makeover — a.k.a. the "break over" — just right. (So right, in fact, there are rumors the two of them may be dating again!) And though she's now talking about how she is fighting back against her Crohn's disease, she is certainly doing it with a healthy, happy glow and a confident style.
Here's what I had to say about it, based on the positive ideas in my new book The Happy Life Checklist: 654 Simple Ways to Find Your Bliss: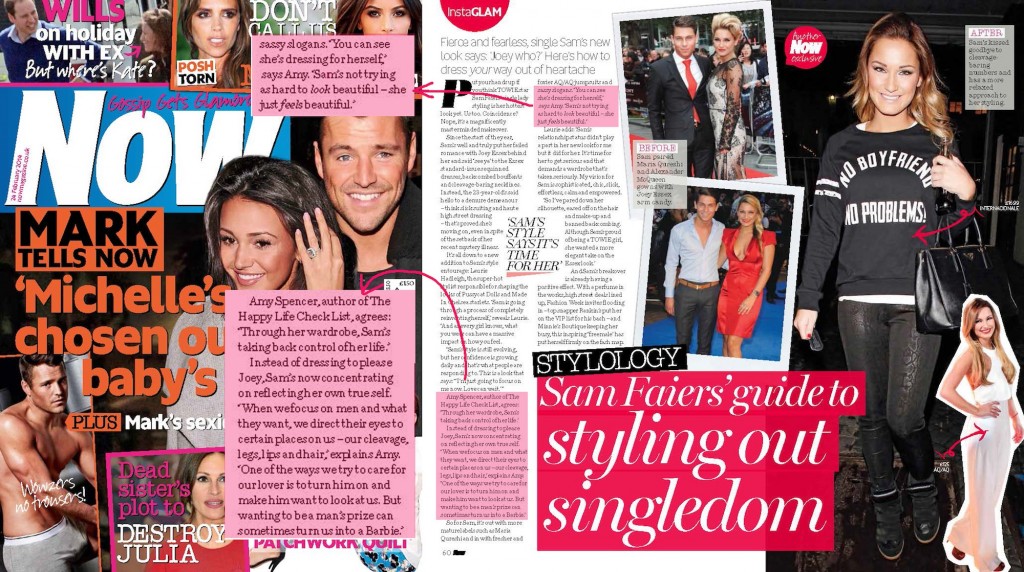 When it comes to your break over look, just remember  it's all about you: the authentic, confident, dress-for-your-own-comfort you.
To keep up with other positive style reminders follow Alison Tay @TheStyleEditor on Twitter, the awesomely bright style editor of NOW magazine. And while you're at it, follow @NOWMag on Twitter, too!
—Amy