I had a great lunch with Brooke Shields last month. We met at Le Pain Quotidien in Brentwood in 100 degree weather, where I interviewed her for Health magazine. Somehow, we still both ordered bowls of soup. Go figure.
The result: June's Health cover story.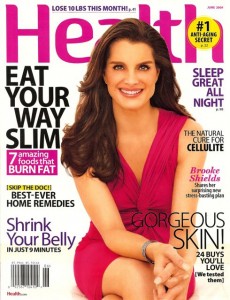 She had a lot to say about staying healthy, the best marriage advice she ever got—and the advice she thinks is just plain wrong. I must say, there's some good stuff in there…
For one, Brooke talks about a skin cancer scare she had recently, which led to those Coppertone ads she's been doing, holding up her own UV skin scan for NutraShield. (Brave woman.) And she also talks about her surprising health regret.
This is the second time I've interviewed her, and she's a very open, honest and fun interview. She really makes you feel like she's the headline of the story inside: "The Girlfriend Next Door."
Check it out, peeps!