A Budget Bedroom and a Big Fun Thank You
I was searching for some home design ideas this evening, so I typed in the name of one of my favorite interior designers: Vanessa de Vargas, who began with a storefront on Abbot Kinney in Venice, California called Turquoise. She now has a company and blog of the same name (and a genius service called e-decorating, which is worth checking out). I interviewed Vanessa last year for a story I wrote about designing on a few dozen dimes for The Nest.com, and it was picked up by some other news outlets.
The most fun part? Finding this personalized "Thank You" blog posting she did on her home design blog, after the story appeared in the Miami Herald: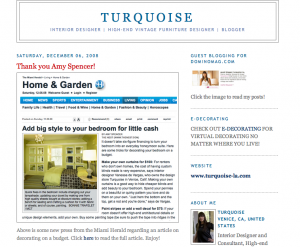 I mean, golly, I've never been thanked in a headline before. Needless to say, it brought a huge smile to my face, so I had to share it! In fact, what better time than now, in our still un-stimulus-ed economy, to share a few more budget tips for making the most out of your home, right? Here's the full story from TheNest.com, which includes an easy plan for beautifying your bedroom on the cheap:

Give Your Bedroom a Makeover for $500
IT DOESN'T TAKE SIX-FIGURE FINANCING TO TURN YOUR BEDROOM INTO A DREAM DESIGN. HERE ARE SOME TRICKS FOR DECORATING YOUR BEDROOM ON A BUDGET.
By Amy Spencer
Make your own curtains for $100
For renters who don't own homes, the cost of having custom blinds made is very expensive, says interior designer Vanessa de Vargas, who owns the design store Turquoise in Venice, California. Making your own curtains is a good way to hide cheaper blinds and add beauty to your bedroom. Spend your pennies on a beautiful or quirky pattern you love and do them on your own. "Just hem the bottom and the top, get a rod, and you're done," says de Vargas.
Paint stripes or add a wall decal for $75
If your room doesn't offer high-end architectural details or unique design elements, add your own. Buy some painting tape (be sure to push the tape into ridges in the wall surface so the paint doesn't run under it) and paint a bold stripe or two in place of crown molding. Or attach a removable wall decal to one wall or corner. DVider sells single wall decals in a rainbow of colors for about $25 to $45 each (dvider.com). And Blik offers packages of polka dots, chandelier silhouettes, natural plant graphics, kids' designs, and more from around $50 to $65 (whatisblik.com), though they don't stick easily to textured walls.
Revamp your lamps for $50
If you like the lamp base but want to pump up the color some other way, simply wrap and hot glue a brightly colored vintage scarf around the shades you have — it looks best if the light shines through both the scarf and shade. If you don't like the base, paint it a beautiful deep blue or coral red with two coats of high-gloss spray paint.
Add one beautiful throw pillow for $25
If you can't find one you love in your budget, make your own! Check out designer Amy Butler's sewing pattern pages for instructions (amybutlerdesign.com).
Buy high-quality sheets from discount stores for $25
Splurge on that unique throw to toss on the bed but save on the sheets beneath. Most people think of overstock sales stores for brand-name clothing for less, but they're also gold mines for bedding. Try stores like Loehmann's, Ross, and Marshalls to pick up Nautica or Ralph Lauren high-thread count sheet sets for as little as $22.
Make your own headboard for $100
Headboards, especially custom, tufted ones, add instant glam to a bedroom. If you can't afford to have one made for you, make your own. "It's honestly the easiest project," says Grace Bonney, founder of the design blog Design Sponge. Hit The Home Depot or a hardware store for a piece of cheap wood, plywood, or even MDF (reconstituted wood), along with a piece of thick foam you can cut with scissors, fabric that complements your color scheme, and some oversized buttons. (Ideally, you'd cover the buttons with the fabric for a monochromatic look.) Staple gun the fabric over the foam to the back of the board. "To tuft it," says Bonney, "drill holes in the wood to pull the buttons through." This project is especially great for renters if you can't fit a giant bed and headboard up five flights of stairs but want a solid design behind your bed that you can even switch out with the seasons. If you're not up for the DIY commitment, try this easy fix: Hang a beautiful painting at the head of your bed. Or hang curtains behind your bed — whether there's a window or not — in a striking fabric.
Buy a foot-of-the-bed bench for $50
Save money by using flea market or thrift store finds. Pick up an old bench to put at the end of the bed and reupholster the top of it in a foam pillow or tufted design (use the same technique as with the headboard). Bonney suggests, "You can do the same with an old trunk at the base of your bed, which gives you seating and extra storage."
Be creative with your nightstands for $50
Some designers swear by using large books piled up as a nightstand to hold a lamp and an alarm clock; the books add a unique look to the room. Or go for a minimalist angle by buying or making fabric book holders, suggests Bonney. "These are giant pieces of rectangular fabric with pockets on each side that go under your mattress, where you can keep your book and reading glasses. It's perfect if you don't have room for a bedside table and want to keep clutter off the floor," says Bonney.
Adorn with fresh flowers for $25
It's the one thing those design magazines always seem to have in photos that real lifers don't: a vase of flowers. Whether it's a vase full of tulips or rhododendrons, or one filled with tall grass and lilies, fresh flowers instantly enliven a room.
*     *     *     *     *
For more decorating tips, hit up this story and others at TheNest.com. And Vanessa, I hope to see your name and designs in even more places soon!