That's the first line of the story I wrote for the April 2009 issue of Glamour, which celebrates 70 years of glass ceiling-smashing female icons.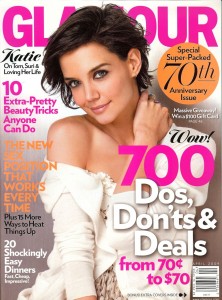 I was lucky enough to interview some new talented actresses to get their takes on the icons they were playing, all photographed by Brigitte Lacombe. And there are some pretty cool transformations in here, like Lindsay Lohan as an 80s Madonna, Paula Patton as Billie Holiday and Elisha Cuthbert as Brandi Chastain. And there are plenty more names you might recognize playing some bold, brave females as well: Rumer Willis, Hayden Panetierre (seen below), Camilla Belle, Alexis Bledel, America Ferrara, Emma Roberts…well, the list goes on.
You can check out the 18-page feature by picking up an issue, and you can also check it out on Glamour.com, here at American Icons.
However you look at it, I suggest you do. Not for my good, but for yours. It's an inspiring reminder of the incredible era-altering accomplishments women have made in the last seven decades, and it might give you the push you need to be your best and make a little history yourself. (And, hey, maybe in a few decades, you can have some cute little actresses dressing up like you!)