Listen to me on the NPR Podcast
Last week, I popped into the L.A. studios of NPR for the first time to record a podcast with one of their producers. Rob Sachs does a funny weekly show that goes up on Thursdays called What Would Rob Do? in which he offers some solutions to life's sticky situations.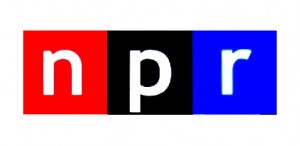 He asked me to participate in the show called, essentially, "What do you do when you run into your ex?"
I had a great time chatting with him, and did my best to quell his fears and (he liked hearing that when we women run into our exes, the exes can rest assured that we are freaking out with awkwardness too).
I worried that I was a wee bit too peppy and laughed a little loud for such a serious station, but what can I say? I'm a happy gal. Plus the host, Rob, was funny.
But go ahead and give a listen to the show that went up on Thursday August 13th, which you can download by clicking here: What Would Rob Do?

I think that link will be good until August 26th. After that, I think you can type this ugly-looking url into a "podcasting tool" and it should take you to the show:
http://www.npr.org/rss/podcast.php?id=510065
Hope you enjoy. I did!