Ginnifer Goodwin: A Fine Romantic
The next great dating movie is upon us! In just three days, He's Just Not That Into You lands in theaters. And flocks of females are sure to follow. You can bet I'll be there with a family size popcorn combo in hand (sorry, you'll have to get your own).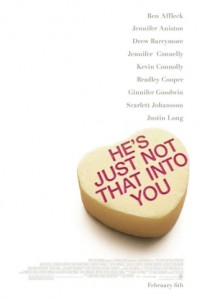 The love-fest on film is sure to make Ginnifer Goodwin—who plays Gigi in the film—an even more recognizable and relatable name than she already is (you've seen her in Big Love and Walk the Line). I had the chance to interview her, as well as her co-star Justin Long, a few short weeks ago, and the story was just printed in Page Six magazine. Thought you might enjoy reading up on how Ginnifer sees her former loves, her current single life and the relationship she's really after. And the quotes from Long, one of the funniest and easy-to-talk to actors out there? Priceless.
You can check out a more well-designed version of the story, along with the gorgeous photos of her and Justin Long (taken in a drool-worthy mansion on the Pacific Coast Highway) here, in Ginnifer in Page Six.
Ginnifer Goodwin: A Fine Romantic
Actress Ginnifer Goodwin is single, footloose and fancy-free—but ready for a man to sweep her off her Manolos. The star of He's Just Not That Into You talks about her recent Hollywood breakup, flirting with co-stars (like Justin Long) and exactly what she's looking for in her next big love.
By Amy Spencer
"One of my New Year's resolutions is to live outside my comfort zone. Normally I'm home and in bed by midnight. But last night I closed down my own party. There were posters all over—my face was everywhere!"
It's the morning after the premiere party for the third season of the HBO show Big Love, and star Ginnifer Goodwin is functioning on about four hours of sleep. That may not seem like such a big deal, but the actress swears she's normally the "go-home-early girl" who has to be "sandblasted out of my house" if she doesn't get a full eight hours. This year, however, she's turning over a new leaf. Which is why she cut loose and partied with her co-stars, sister and pal Justin Long. "After the premiere, whenever someone said, 'Let's go to this bar,' I was like, 'Yeah, I'm in!' I went to O-Bar in Hollywood, and no one was dancing but me!"
But this woman has every right to kick up her heels and celebrate right now. After playing the adorable sidekick in films like Mona Lisa Smile and Win a Date With Tad Hamilton, then taking on the role of Johnny Cash's first wife in 2005's Walk the Line, this month Ginnifer gets top billing in He's Just Not That Into You. Remarkably, hers is the most prominent role in a movie that includes Drew Barrymore, Jennifer Aniston, Scarlett Johansson, Jennifer Connelly, Ben Affleck, Kevin Connolly and Justin Long.
Based on the best-selling dating advice book of the same name, He's Just Not That Into You comes at an interesting time in Ginnifer's life, as her December breakup with her boyfriend of two years, American Pie actor Chris Klein, is still relatively fresh. "It just…it was just…time," she says, noting that they still have great mutual respect. But by the sound of it, Ginnifer's tough love may have also had a hand in the split. "I'm so an all-or-nothing person in dating, always," she says. "I'm big on not wasting time. And so, yeah, if something's not working, it's time to not hold people back." Still, she has kind words for Chris who, prior to dating Ginnifer, was engaged to Katie Holmes. "He is a very traditional fella, which I find so very attractive," she says, with an "awww" in her voice. "He's a stop-and-smell-the-roses kind of guy. And he'll end up with the same kind of woman."
The 30-year-old actress hardly looks heartbroken. Tucking into a hearty vegan scramble at a Hollywood café, and dressed in black jeans, black tank top and black Converse sneakers—all borrowed from a friend, because her own clothes are still packed up in boxes at her new home nearby—she's all grins and giggles. Ginnifer's friend and co-star Justin describes her as "adorable in a quasi-elfin way. Ginny's beyond cute, she's a hot elf. And she has her eccentricities. It's like a wonderful battiness. She's just loopy enough."
Ginnifer grew up in the suburbs of Memphis, with "artsy fartsy" parents, who divorced when she was 16. Her father was a musician who once conducted Roy Orbison's band and later opened a recording studio. Her mother was a stay-at-home mom who later became a "computer genius," working for big-brand companies like Apple, FedEx and the Smithsonian. (She has one sister, Melissa, 28, a professional animator in Los Angeles, and is close to her two stepsisters as well.) Much of her childhood was spent doing local theater, and her first "real" kiss happened at summer camp when she was 15. "We kissed, and I ran off!" she remembers, laughing. "I was so freaked out—I mean, life had changed." Three years later, Ginnifer enrolled at Boston University, where she earned her B.F.A., and also studied at London's Royal Academy of Dramatic Art. Following graduation in 2001, she and a friend moved to New York, where she settled into a fourth-floor walk-up in Hell's Kitchen that fit only a twin-size bed and some uninvited mice. (Her favorite NYC date spot? The classically cozy Tavern on Jane, because "anything trendy would turn me off.") The acting agent she scored before leaving school had her working immediately, and "it's just flown since then," she says. She moved to L.A. in 2003, and nabbed her big break in 2005, when she was cast as Margene, the third and youngest wife of a polygamist (played by Bill Paxton) on Big Love.
Along the way, there were boys, of course—she was linked to actor Topher Grace in 2002. And, despite the frantic flight from her first kiss, Ginnifer, just like her ex Chris, is a bit of a traditionalist—at least when it comes to romance. "I love Valentine's Day!" she says. "I love it, I love it, I love it. I like having doors opened for me. My favorite romantic comedy is When Harry Met Sally." And one of the most romantic gestures a guy can make, she says, is "taking me to meet his mother."
She is not, however, a girl who relies on self-help tomes to navigate her relationships—in fact, she didn't even read the book version of He's Just Not That Into You until after she had filmed the movie. The essential message of the book is that women should stop making excuses for guys who don't return their advances/call them back/take a relationship to the next level, and face up to the fact that, if he's into you, he'll make a move unprompted. So what did Ginnifer learn from it? "At the point at which I read the book—which was a year ago—I couldn't believe how tolerant I was of foolishness." That said, she's confident that she gets the message. "I may be a feminist, but I also really want to date a guy who's going to come after me. I'm really not into people who are not into me," she says. "I mean truly. If a guy is not calling me back, I'm so turned off. I'm gone! I'm on to the next."
So what kind of guy is Ginnifer looking for in real life? "I will end up with someone in the arts," she pronounces. "I am positive. I eat, breathe and sleep acting. And I'll end up with someone who is happy staying at home and having me cook supper. But I also really need to be intellectually challenged and stimulated. I want someone bookish, and someone who is passionate."
Justin—who met the actress eight years ago when they were both on the TV show Ed, and who essentially plays the voice of book co-author Greg Behrendt in their upcoming movie, giving no-nonsense advice to Ginnifer's looking-for-love character—has his own thoughts on the type of man who might work best for his pal. Other than someone who appreciates her acting, he says, it should be "someone who has a modicum of patience, who's not afraid of a woman who has a certain amount of strength. Ginny's definitely very opinionated. But underneath it all is this wide-eyed Memphis girl, who's not at all jaded or mired in cynicism."
So, could the two of them ever take their friendship to the next, romantic level? "My friends are like, 'Well, what about you guys?' " admits Justin, who dated Drew Barrymore for a year before splitting in July 2008 and who was briefly linked last year to Kirsten Dunst. But, he insists, "we are like brother and sister." Ginnifer seconds that emotion: "It is like being siblings. It's a platonic bond. They say men and women can't be friends, but that's not true." As for consoling each other through their respective breakups, she says, "We're close in this way that I don't ask certain questions because it's almost like it would be small talk. We've told each other how we feel, but we don't talk about 'what happened.' "
Ginnifer also bonded with her on-screen actress gal pals—Jennifer Aniston and Jennifer Connelly—while filming He's Just Not That Into You. "We talked about, you know, does one even need a love of one's life to be happy. I believe you absolutely don't…but I do. Love will be a part of my great happiness. A great part of my great happiness."
For now, though, her single life is the perfect fit. "Right now, I'm not lonely and I'm not needy, and I'm not, well…" she pauses and sighs, her sweetly goofy demeanor turning sentimental. "Sometimes I, of course, feel like I want to be taken care of. But right now I'm very, very, very happy and taking care of myself. And I really don't want it any other way."