Eva Longoria Lives Bright Side Up!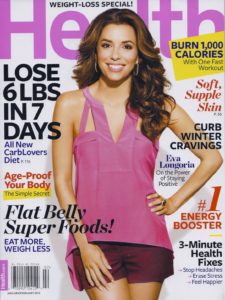 I had a blast interviewing the February 2012 cover star of Health magazine for this month: Eva Longoria.
Partly because I think she's a hilarious actress. Partly because I'm inspired by her activism and charity work which she somehow squeezes into her already busy life as a successful businesswoman. And partly because she's as much of an optimist as I am!
Eva has a positivity that's addictive and essentially lives her life Bright Side Up—much like my new book! So it was fun to hear her talk about how she's been able to flip the tough times in her life into good ones by seeing her experiences from a more positive perspective.
Check out my full interview with Eva Longoria on Health.com, which is also featured as "Eva's Happy Life Moves" on CNN.com and TheHuffingtonPost.com. (We really got around this month!)
I hope her happy life moves inspire you!
—Amy