Coming in 2010: "Meeting Your Half-Orange"
Attention all singles! Start your countdown clocks now. My first dating book, Meeting Your Half-Orange: An Utterly Upbeat Guide to Using Dating Optimism to Find Your Perfect Match, will be published by Running Press in February 2010. Yes, it'll be a long countdown, but it will be worth it.
If you're getting tired of watching your friends pair up and marry off while you whittle away yet another Saturday night trying to wrangle someone to scour the guy scene with you…it's time to try Dating Optimism.
Because if you're focused on simply finding the right guy, I'm sorry to tell you…you're doing it all wrong! You shouldn't be looking for a guy at all!
Why? Because it's not about the guy. It's about you.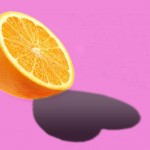 From what to do while you're sipping your Starbucks, to what to think about while you scour Us Weekly, I will walk you through the secret of Dating Optimism to get you the relationship you've always wanted.
Use my tricks to stop your frustrating pursuit for good men, delete the online suitors you don't want to date anyway, and fight off the secret panic that you'll end up alone. Instead, Meeting Your Half-Orange will show you how to live your life and adjust your attitude in a profound—but simple—way to bring you the great relationship you want and deserve.
It's about time you learned to live up your amazing, kick-ass life while love finds you!
Email media and publicity inquiries to: [email protected]
Literary agent:
Laurie Abkemeier
DeFiore & Company, New York, NY
[email protected]